Having a radon test done at your home is the only way to know what the radon levels are in it. There are many different methods and types of radon tests that can be done. At Reliance Radon Services we utilize state of the art equipment that can provide instant radon test results when the equipment is picked up two days after it was set, with two days being the minimum amount of time needed for any accurate radon test. The test results, which include an hour-by-hour chart of the radon tests over time, are then emailed to the client. If the results come back at or above 4.0 pCi/L then a radon mitigation system is recommended to be installed. Below is an example of a radon test result graph.
Example Radon Test Result Graph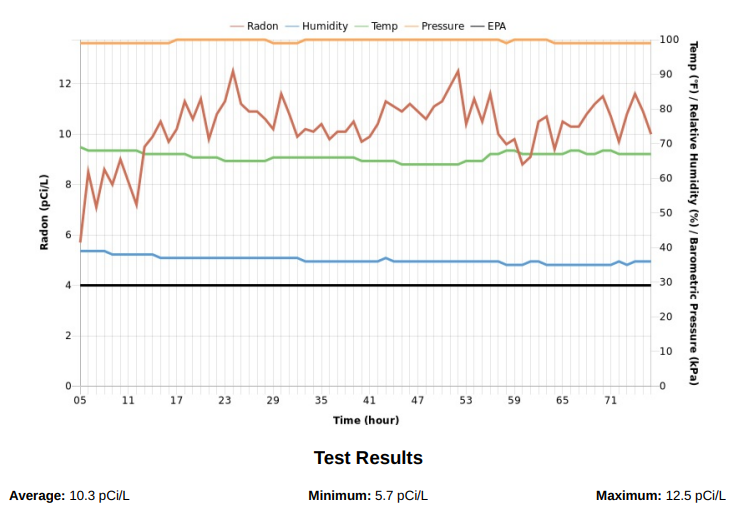 What to Expect During a Radon Test
The radon tester itself is a small box, about the size of a shoebox, that our technician will likely set-up on a tri-pod on the lowest occupiable space within the home. The tester doesn't make any noise and entry/exit to the room it is placed in is acceptable as long as the device itself is not moved or tampered with. During a radon test there are a few expectations of the home occupants, which includes them keep what is known as closed-house conditions. This entails:
Windows are to remain closed.
Exterior doors are to remain closed with the exception of normal entry and exit.
The heating and cooling system can operate normally during the test.
Do not use whole house or window fans.
No open flame equipment is to be used, such as a wood burning fireplace.
The testing device is not to be disturbed.
If a radon mitigation system is present then it should remain in operation.
At least 48 hours after the radon test is set one of our technicians will pick up the device and provide the client with the radon test results.
To learn more, contact us or call (419) 654-1841 today to speak with a licensed radon testing technician and schedule reliable radon testing services for your multi-family home.
Serving the Greater Toledo Area
Reliance Radon Services provides licensed radon testing and mitigation services throughout the greater Toledo, Ohio area, including but not limited to: 
Toledo

Bowling Green

Findlay

Tiffin

Sylvania

North Baltimore

Waterville

Fremont

Fostoria

Port Clinton

Oak Harbor

Napoleon

Whitehouse

Maumee
Our Services
Reliance Radon Services provides a variety of other non-radon services, such as home inspections, commercial inspections, and pest control in the Toledo, Ohio area.
And more! Click here to browse a complete list of services